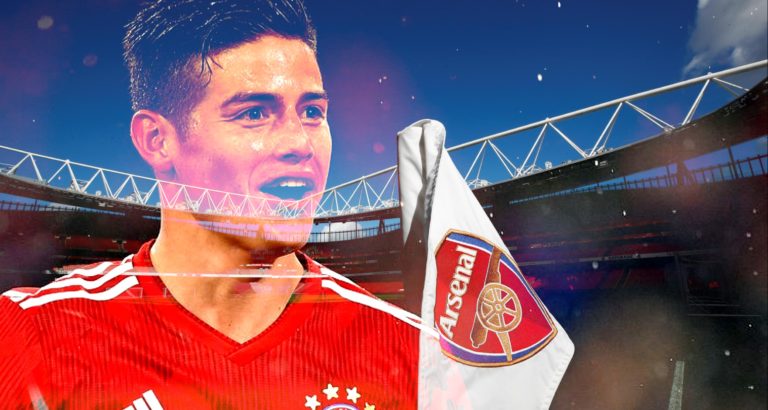 Guys here is a roundup of the latest Arsenal news, gossip and transfer news from icfootballnews.comm over the past 24 hours.
Arsenal could raid Real Madrid in the summer transfer window for James Rodriguez, who is seemingly on his way out of the club.
Since Arteta's first match in charge on Boxing Day, the Gunners have won just three of their nine games in all competitions with two of those coming in the FA Cup, and Finishing in the top four seems out of the question for Arsenal this season and Arteta will likely be already thinking about his summer transfers.
The Spaniard was not handed the kind of funds that he had hoped he would get during the January window and only managed to secure transfer deals for the likes of Pablo Mari and Cedrik Soares , who have been brought in to help improve the back-line.
READ MORE: Arsenal transfer news: Arteta sent transfer message about possible incoming signing of £108 million Frenchman Griezmann
And Arteta should now be focusing on trying to bring world class players to the side in the summer, with Rodriguez a great option for the club.
The Gunners were linked with a loan move for Real Madrid midfielder Rodriguez during the January transfer window, but the LaLiga club were thought to have preferred a permanent deal rather than a short-term fix.
Since returning from his loan spell with Bayern Munich, Rodriguez has struggled to establish his place in the Madrid team, and he has made just seven starts all season and has only one goal and one assist to his name.
The 28-year-old could look to move elsewhere in the summer to revive his career, meaning that the Arsenal may be able to secure a bargain £34 million deal for the attacker when the transfer window opens up.
Now, according to MARCA, the Gunners remain interested in the Colombia international, and are reportedly ready to try and acquire his services.
It is no secret that Madrid will be looking to sell a number of players during the summer window, and will seek to offload the fringe players for bargain prices.
Arsenal transfer target Luka Jovic 'doing a good job of ruining his career' at Real Madrid, says ex-coach Dragoslav Stepanovic.
After a very impressive season in the Bundesliga last year, Jovic became hot property in the game with some of the biggest clubs in the game all linked with possible moves, but in the end it was Real Madrid who secured a transfer deal for his services.
The Spanish giants paid a massive £54 million for the young hitman as they firmly believed that he could become a superstar in the game, but this season has not been the best in Madrid for Jovic and he has only managed two goals for the Spaniard, leading to rumours he could leave.
READ MORE: Arsenal transfer news: Arteta sent transfer message about possible incoming signing of £108 million Frenchman Griezmann
And that has led to alot of speculation that he could head to the Premier League, with Arsenal leading the chase for the young hitman as they seek to improve the side enough at the end of the season to challenge for more than a top four spot.
And now former Eintracht Frankfurt coach Stepanovic has claimed the striker is ruining his career, he said to Kurir: "He is the only man who does 100 per cent to ruin his career.
"Jovic works against himself. He was lucky that Adi Hutter gave him a shot at Eintracht and then made the biggest transfer in Serbia's history and went to Madrid. I can't believe what the boy is doing to himself."
Charlie Nicholas thinks Arsenal should do whatever it takes to keep Pierre-Emerick Aubameyang.
There has been alot of transfer speculation in the media over the past few weeks that this season will be the last that Auba spends at the Emirates, that he wants the kind of money that Arsenal do not want to pay and that he is now ready to make the move to La Liga and sign with the Spanish giants.
Barcelona are reportedly ready to meet the massive £70 million asking price to take him to the Camp Nou, while also paying that £300,000-a-week contract that he reportedly wants, meaning that Arsenal would need to spend some serious money and bring in another world class striker.
But Nicholas thinks Arsenal need to make him an offer he can't refuse: "While I do believe that Arsenal need to fund a rebuild, my preference would be to offer Aubameyang what he wants," the former Arsenal striker told Sky Sports.
"Everyone will flag up his wages and I have been told differing scenarios, especially with Mesut Ozil. Is it possible Ozil could move on? Could this then help fund wages for Aubameyang and others? If they can get Ozil off the wage bill without getting anything for him, it will not be too much of a detriment.
"There are differing ways of doing this, but more than anything, I would want Arsenal to renew Aubameyang's contract for three or four years, if they can. They must give Aubameyang exactly what he wants. There simply aren't many other players like him at that level.
He is getting good money in London, he is scoring goals in the best League in the game and is playing at the top of his game, if he leaves for Barcelona, it could not work out, especially as there are so many big-time player with big-time egos at the Nou Camp.
If he wants to leave let him, otherwise shut up and sign a new contract
YOU MAY HAVE MISSED: Arsenal FC News: Target transfer request decision to get summer move, Madrid star all set for Emirates move? (Video) Arteta has message for fans, Arsenal close in on £77m signing and Prem move wanted,
READ MOE: Arsenal transfer news: Arteta sent transfer message about possible incoming signing of £108 million Frenchman Griezmann
**Do you have something to say about your club? Send us an article for discussion!**