Home

A KNEE INJURY TO ARSENAL'S GABRIEL JESUS HAS FORCED HIM TO WITHDRAW FROM THE WORLD CUP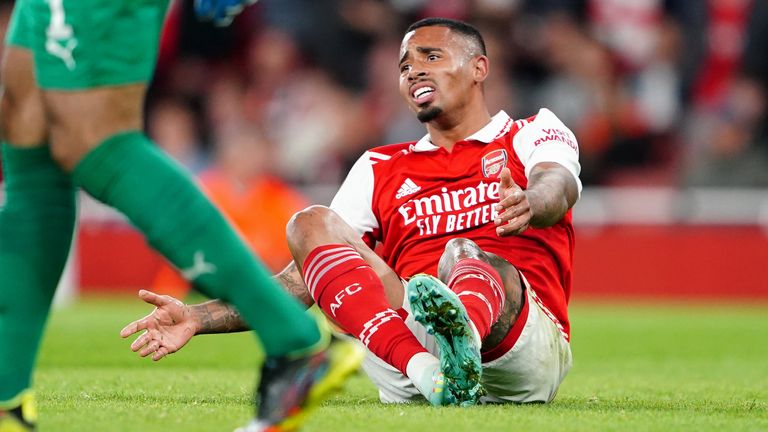 A KNEE INJURY TO ARSENAL'S GABRIEL JESUS HAS FORCED HIM TO WITHDRAW FROM THE WORLD CUP
A KNEE INJURY TO ARSENAL'S GABRIEL JESUS HAS FORCED HIM TO WITHDRAW FROM THE WORLD CUP
A knee injury to Gabriel Jesus may keep him out for up to three months, according to the latest Arsenal news.
By Rashmi Goel
There have never been more widely conflicting reports regarding the severity of Gabriel Jesus' knee injury than there have been in this season, at least in terms of the release of an Arsenal announcement amid the uncertainties surrounding the injury. It is yet to be confirmed if the Gunners will make an official statement following yesterday's announcement that the 25-year-old's World Cup campaign has come to an abrupt end after he started the competition and played two substitute appearances for Brazil in Qatar. The fact is that Arsenal could be going into the second half of the season without their talismanic forward Gabriel Jesus, in what could be regarded as an integral part of their squad going into the second half of the league season. In last week's World Cup group stage loss to Cameroon, the £45million former Manchester City forward sustained injury to his medial ligament during the course of the match.
It An example of what every manager's worst nightmare would be is when a star player is forced to leave for international duty in the middle of the season only to return injured and unavailable. Initially, news broke that Jesus had suffered some kind of knee injury that would cause him to be ruled out for three weeks due to a problem with his right knee. He would likely not be able to participate in the rest of the tournament with the Selecao because of the timeline, but he would be back in time for Arsenal's hectic festive period which is gradually taking over the club, except for West Ham's trip to the Emirates when they play Arsenal on Boxing Day.
The 25-year-old is expected to be out of action for at least three months because of knee surgery, a situation which, as new reports suggest, could spell trouble for Arsenal's title hopes. New reports claim Jesus would have to undergo knee surgery to avoid cartilage damage, which could keep him out of action for as long as three months. During the period of February in which Arsene Wenger led a young Arsenal team who was in contention for the title and had a two point lead when Eduardo da Silva suffered a horrific tibia fracture and fibula fracture that was so horrific that television cameras were forbidden from showing replays of the event. The fact is, Eduardo played quite a bit of a role in the Arsenal team during that time period as Jesus did in this one, and this was the case, but the emotional toll of losing a key player while at the top of the table, with high pressure, eventually led to the inexperienced squad capitulating in the final stages.
As a result of three successive draws after that game in which Eduardo sustained his injury, the Gunners were all but doomed for a fourth title in the Premier League, and they finished the season third. By a wide margin, this current Arsenal squad is the youngest in the Premier League. Even so, they have already shown that they have the ability to be resilient when facing challenging opposition, but it remains to be seen how they will react in the event of losing an important player for an extended period of time, such as one who has been an integral part of their squad for years.
Jesus is expected to land on English soil on Sunday before heading to Arsenal's London Colney training base, where he will undergo tests in order to determine the extent of his injury prior to his possible return to action. A lot of rumors have emerged recently suggesting that Jesus actually had been experiencing this issue way before the World Cup began, but he was able to play through the pain barrier both for his club and for his country until it eventually became too much for him to handle. Arsenal fans around the world will be eagerly awaiting an update on Jesus' fitness, but if going under the knife turns out to be the only option for the Gunners this season, the team may have to take a look at their ambitions going forward.
You Might Be Interested In