Home

EMILIANO MARTINEZ'S MIND GAMES, TAUNTS, &"HATEFUL" TWEETS HAVE TAKEN OVER THE PENALTY SHOOTOUT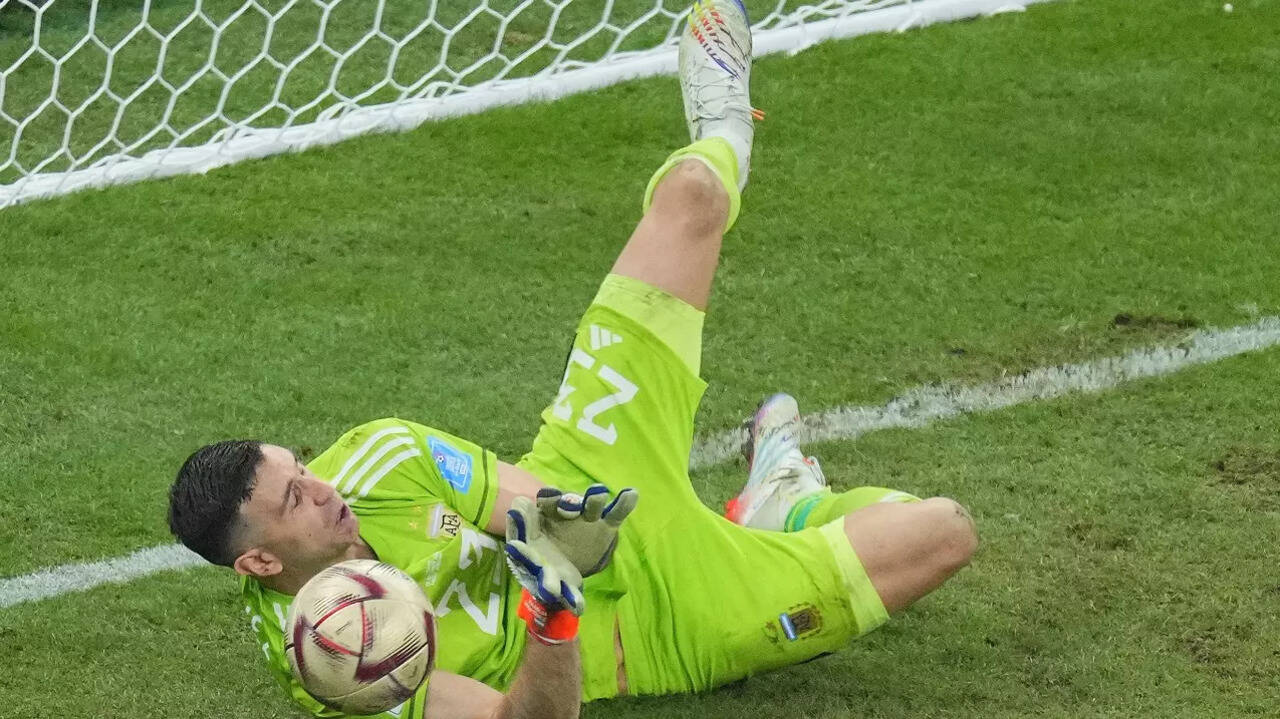 EMILIANO MARTINEZ'S MIND GAMES, TAUNTS, &"HATEFUL" TWEETS HAVE TAKEN OVER THE PENALTY SHOOTOUT
As Argentina defeated France on penalties to win an epic final at the Lusail Stadium on Sunday, Aston Villa shot-stopper Emiliano Martinez took center stage again. It was a member of Argentina's supporting cast who made headlines in the blockbuster World Cup final that featured Lionel Messi and Kylian Mbappe. During a thrilling finale, the Albiceleste and France could not be separated. Messi and Mbappe both performed well on the biggest stage, Messi with a brace, Mbappe with a hat-trick, unable to break the tie after extra time.
This resulted in the World Cup final being decided by penalties for only the third time in the history of the World Cup. Again in a short period of time, Emiliano Martinez proved why he has become an elite shootout player. After their bad-tempered clash, Argentina eventually prevailed over the Netherlands after Aston Villa's shot-stopper prevented Virgil van Dijk and Steven Berghuis from scoring. As a result, he fully enjoyed the spectacle, celebrating wildly in front of the Argentina fans with a dance after denying Berghuis before letting rip on Louis van Gaal following the shootout. Van In his remarks, Gaal stated, "If penalties are taken, we will win." I believe that it is best for him not to comment further.
Martinez had been unable to deny Mbappe's tour de force, with the French phenom finding the net three times as he nearly single-handedly rescued Les Bleus from defeat. In spite of this, Argentina once again found themselves indebted to Martinez as extra time ticked past the 120th minute, and Martinez was once again able to pull off what is undoubtedly the save of the tournament. Astonishingly, the entire world held its breath as Randal Kolo Muani and France hit the winning goal, believing that this would be the final and that they had miraculously deftly rescued themselves from an almighty hole to win the World Cup again. It was, however, when Muani lashed a goalward shot, Martinez's imposing frame leaped into action to deny him an opportunity and in doing so, kept Scaloni's team alive - and Messi's dream of winning the world cup alive.
In the shootout, following two straight losses to Mbappe from the spot during the match and a third loss in the shootout, Martinez was forced to reach into his bag of tricks in order to dethrone Didier Deschamps' team. The four spot-kick takers of France engaged in a verbal conflict as they awaited to take one of the biggest penalties of their careers. The mind games Martinez played did not have an adverse effect on Mbappe but did have the desired effect on Kingsley Coman. It was clear that the Bayern Munich winger was nervous as he awaited Szymon Marciniak's whistle. The 30-year-old striker struck a penalty toward Martinez's right, but he misjudged the ball and smothered it to give Argentina the lead.
Argentina's fans, who were in a horde behind Martinez's goal, erupted in celebration when the goal was scored. When Paulo Dybala converted on his own penalty to nudge Argentina into a 2-1 lead following Martinez's save, their vociferous support only increased. Martinez was full of confidence after he save Dybala's conversion as Aurelien Tchouameni stepped forward to take France's third penalty. When Martinez realized that he had the opportunity to push limits against Tchouameni, he decided to do so, knowing that he could no longer afford to miss. Amid the mass of Argentina fans, Martinez rolled the ball away to his right, delaying Tchouameni's penalty shot a further moment. Tchouameni ultimately attempted to score from a penalty in the same direction Martinez threw the ball, but his effort was blown wide. As usual, Emiliano Martinez's mind games struck again.
The victory was celebrated by Martinez with a shimmy similar to that of Conor McGregor as Tchouameni watched in agony. Both parties recognized the significance of that moment. There was no doubt in their minds that the Jules Rimet trophy was now on the verge of being transported back to Buenos Aires. Aston Villa's ace was issued a yellow card for his antics by Marciniak, but this card was meaningless. There had already been damage done. A calm Muani rifled his spot-kick past Martinez, but everything now rested on Argentina, as Gonzalo Montiel calmly rolled his penalty into the right-hand corner to seal Argentina's third world championship. Martinez, who had been jigging just minutes earlier, dropped to his knees at the conclusion of the game.
A moment of emotion filled the stadium for a player who, until two-and-a-half years ago, was a peripheral figure at Arsenal and a world away from playing for his country, let alone contributing to a World Cup final. In 2021, he made his international debut.
Martinez is unlikely to be phased by criticism since he was named the best goalkeeper of the tournament by winning the coveted Golden Glove award. Several minutes later, he held the biggest prize in international football in his hands. "There are no words to describe it. I remained calm during the penalty shootout and everything went smoothly," Martinez stated after the game. It has been my dream come true to achieve everything I had envisioned."
By Rashmi Goel
You Might Be Interested In