Home

highest paid college football coaches for all time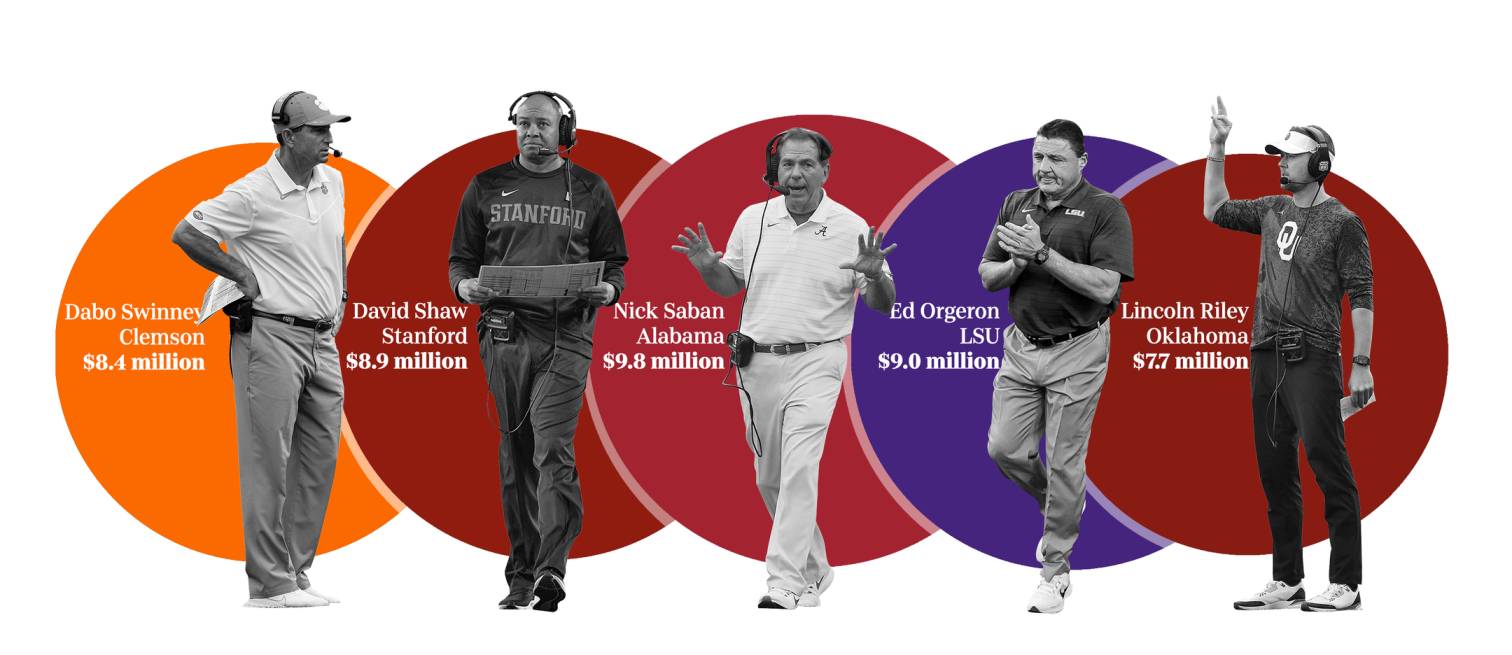 highest paid college football coaches for all time
Seven SEC head coaches are among the top 20 highest paid college football coaches at public universities, according to USA Today's annual list, which is once again led by Alabama's Nick Saban.
Kirby Smart, a protégé of Saban's who has won back-to-back national championships with Georgia, is ranked third. The whole bottom half of the top 10 is made up of LSU's Brian Kelly, Jimbo Fisher of Texas A&M, Mark Stoops of Kentucky, Josh Heupel of Tennessee, and Lane Kiffin of Mississippi.
Up until Florida State's Mike Norvell enters at No. 15, Dabo Swinney of Clemson is the only ACC representative.
Ryan Day of Ohio State moves up to No. 4 for the Big Ten, while Mel Tucker of Michigan State officially remains in the fifth position despite having been sacked for cause following a sexual harassment inquiry. Tucker is likely to drop off the list entirely.
The most talked-about head coach in college football, Deion Sanders, comes in at number 32 and earned $5.5 million in his first year with Colorado.
The only two private school entries, USC's Lincoln Riley and Miami's Mario Cristobal, are included on this complete list of the top 25 college football head coaches' salaries as of the 2023 season.
Also read: 800+ Inappropriate Fantasy Football Team Name In 2023?
Top 20 Highest Paid college football coaches
| | | | |
| --- | --- | --- | --- |
| 1. | Nick Saban | Alabama | $11.4M |
| 2. | Dabo Swinney | Clemson | $10.9M |
| 3. | Kirby Smart | Georgia | $10.7M |
| 4. | Ryan Day | Ohio State | $10.3M |
| 5. | Mel Tucker* | Michigan State | $10M |
| 6. | Lincoln Riley | USC | estimated $10M |
| 7. | Brian Kelly | LSU | $9.9M |
| 8. | Jimbo Fisher | Texas A&M | $9.1M |
| 9. | Mark Stoops | Kentucky | $9.01M |
| 10. | Josh Heupel | Tennessee | $9M |
| 11. | Lane Kiffin | Mississippi | $9M |
| 12. | James Franklin | Penn State | $8.5M |
| 13. | Jim Harbaugh | Michigan | $8.3M |
| 14. | Mario Cristobal | Miami | reported $8M |
| 15. | Luke Fickell | Wisconsin | $7.6M |
| 16. | Mike Gundy | Oklahoma State | $7.6M |
| 17. | Mike Norvell | Florida State | $7.3M |
| 18. | Billy Napier | Florida | $7.3M |
| 19. | Brent enables | Oklahoma | $7.1M |
| 20. | Kirk Ferentz | Iowa | $7M |
Read also: mt sac football roster 2023-2024

You Might Be Interested In