Home

IN 1986, MOROCCO CREATED WORLD CUP HISTORY BY DEFEATING PORTUGAL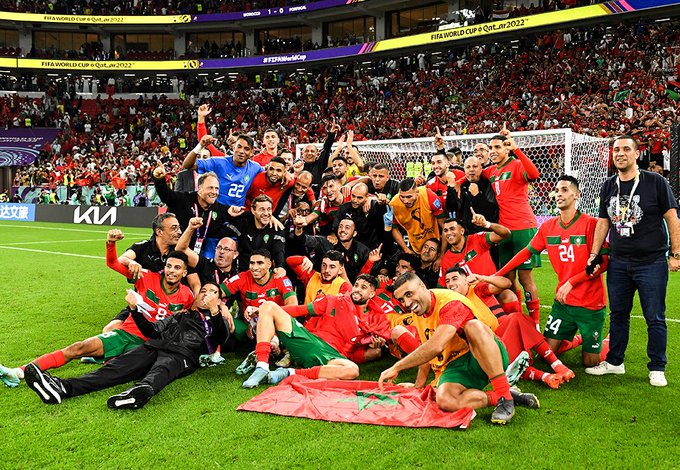 IN 1986, MOROCCO CREATED WORLD CUP HISTORY BY DEFEATING PORTUGAL
IN 1986, MOROCCO CREATED WORLD CUP HISTORY BY DEFEATING PORTUGAL
By Rashmi Goel
Morocco hopes to make history on Saturday. The African team faces Portugal in Doha as they attempt to become the first African team to reach the semi-finals of the World Cup. In the event the Atlas Lions set a World Cup milestone against the same country they defeated 36 years ago, it wouldn't be a new phenomenon. It is important to note that Morocco had drawn 0-0 in its first two group games in Mexico against Poland and England, but had some confidence thanks to the 24-team format that another scoreless encounter against Portugal in Zapopan might be enough to advance them further into the tournament. When it came to qualifying permutations, however, no African nation had ever reached that stage before, and Jose Torres' Portuguese side had a slight advantage in terms of goals scored. The outcome of England's match with Poland in Monterrey also depended on the outcome of this match, so only a victory would ensure Morocco's success.
In the early stages of the match, Morocco had virtually all the play, but most of their chances were speculative efforts from the perimeter of the area. Nevertheless, it was a successful tactic. Despite sloppy Portuguese passing in their own third, Abderrazak Khairi hit a low shot from 20 yards into the bottom-right corner of the net to give the Africans the lead. It was a goal that brought the Atlas Lions to the top of Group F moments after Gary Lineker scored the second goal of his hat-trick in Monterrey. With a one-goal advantage, Morocco was still able to play their game on their own terms, while Khairi caused havoc coming off the left. Portugal tried to increase the pace, but Morocco was still able to play on its own terms. His second came after 26 minutes when he slammed home Labid Khalifa's cross unnoticed at the back post. Morocco still had not conceded in the entire tournament and their two-goal lead looked as secure as any other in World Cup history. With Portugal at the bottom of the group and heading out, Portugal started attacking with more vigor after the interval, while Morocco did not seem unconfident when they lost possession and always looked likely to add a third.
Mohammed Timoumi picked out Abdelkarim Merry's run with a delightful left-footed cross after the hour mark for Merry to slot past Damas and put Morocco's moment of history beyond doubt. After a frenetic barrage on Badou Zaki's goalmouth in the last ten minutes, Portugal substitute Diamantino made it 3-1 with a delightful chip. Morocco performed well in the round-of-16 tie against perennial finalists West Germany, although they were undone by a superb free-kick from 30 yards by Lothar Matthaus in the 87th minute. Despite initially appearing as if extra time would be necessary without a score, Zaki saved Matthaus with a brilliant save moments prior. The Morocco team of 1986 had been trailblazers, and their successors in 2022 aim to exceed these standards.
Atlas Lions have also proven difficult to defeat this time around. They have not conceded a goal in 832 minutes of play, with Nayef Aguerd's own goal in the 2-1 group-stage victory over Canada being their only concession. Aside from their fearlessness, they also have a great deal of confidence in their defensive line, which makes them able to attack opponents on the counter at any time. Let there be no mistake about it, Portugal might succumb to yet another World Cup history this weekend. It has been 36 years since Morocco broke down one barrier, and now it is on the verge of breaking down another. It appears they have nothing to fear as a result of the spirit of 1986.
You Might Be Interested In