Home

A MOVE MAY BE POSSIBLE FOR THESE WORLD CUP STARS IN THE JANUARY TRANSFER WINDOW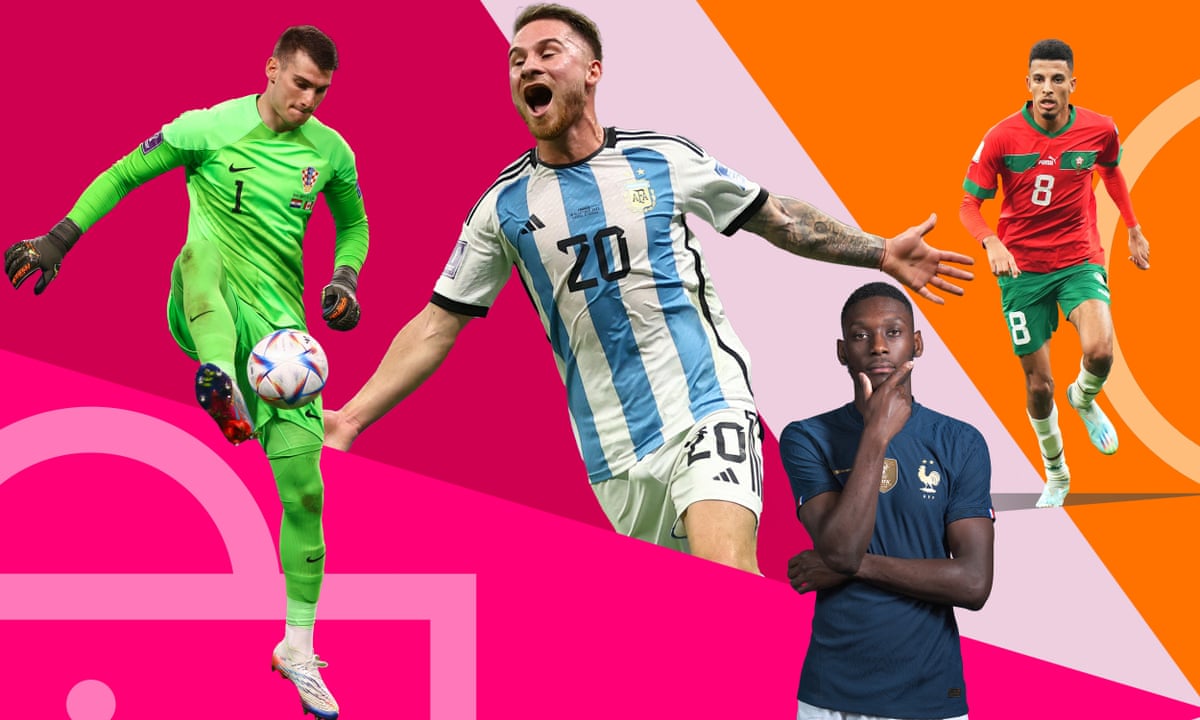 A MOVE MAY BE POSSIBLE FOR THESE WORLD CUP STARS IN THE JANUARY TRANSFER WINDOW
Even though there are still a few games left in the World Cup, the winter transfer window will open in just a few weeks. The tournament in Qatar has undoubtedly raised a lot of speculation surrounding many of the players who have been performing exceptionally on the biggest stage in world football, much like retailers welcoming shoppers after a post-Christmas sale. When the market opens on January 1st, Europe's elite will begin stalking the stars of the 2022 World Cup like sharks, looking to pounce. Check out some of the talents that could be on the move in the coming months.
Harry Souttar - Australia
As a result of his recovery from a cruciate ligament rupture when he was invited to play for Stoke before the World Cup, Souttar was able to shine for the Socceroos during the tournament. As part of Graham Arnold's backline, he showed great leadership as Australia qualified for the knockout stage for the first time in 16 years with a commanding performance. As he faced some of the world's best-attacking talent, the defender appeared comfortable and his efforts in this regard could earn him a move away from the Potters in the near future.
Adrien Rabiot (France)
Rabiot was set to move to Manchester United in the summer, but with Juventus in financial trouble, this winter represents the final opportunity for the Turin side to acquire a fee for the France international as he is out of contract in the summer. The 27-year-old has been impressive in the center of midfield for France and has made no secret of his desire to play Premier League football, so the 27-year-old is one to keep an eye on this transfer window as he has spoken about his desire to play in the top flight.
Yunus Musah (USA)
Despite his tender years, Musah caught the attention of everyone during the USA's run to the round of 16 of the World Cup, particularly when he starred against England in their group-stage match-up. As a result of Valencia's financial difficulties, the former Arsenal academy starlet has a host of clubs interested in his services this January, despite still being under a long-term contract with his current club. The Spanish club's financial difficulties have made him available for as little as 20m euros, despite still being under contract with the club. The fact that he appears almost certain to leave either when he leaves this January or in the summer makes him a shrewd pickup for plenty of teams.
Dominik Livakovic - Croatia
There is no doubt that Dominik Livakovic is one of the best goalkeepers in the world. During the quarter-final against Brazil, he made 11 saves, as well as denying Rorygo's spot-kick in the shootout. The goal was given to him as a reward for his performance against Japan, during which he managed to save three penalties. Croatia's number-one goalkeeper has proved to be an excellent goalkeeper for Zlatko Dali for the past couple of seasons, and he is certainly a candidate to be transferred to one of the top leagues in Europe. The fact that he is still only 27 years old and has already won a Champions League with Dinamo Zagreb tells us that any club that is in need of a long-term number one would be wise to secure his services.
Josip Juranovic - Croatia
With his energy and pace, Juranovic was one of Croatia's best players during their penalty shootout victory against Brazil in the quarter-finals. Not only was he continually surging up and down Croatia's right flank, but he also caused all kinds of problems for Tite's team because of his energy and speed. Juranovic also has a very solid defensive game, which indicates that he has the ability to play at a much higher level than in the Scottish Premier League. The player has already been linked with a number of Premier League clubs, including Newcastle and even Atletico Madrid. Given his performance at this year's World Cup, Celtic are likely to earn a pretty penny from the departure of such a player, even though it will be extremely difficult to keep hold of such a player.
Goncalo Ramos - Portugal
Portugal's manager Fernando Santos made a bold move by dropping Cristiano Ronaldo for their round of 16 match against Switzerland. The move, however, immediately paid off thanks to Goncalo Ramos. With Ramos' hat-trick, he became the first player since Miroslav Klose in 2002 to score a hat-trick in their first match at a World Cup since 1990. Currently, he has nine goals to his name in 11 league appearances that he has made so far in the season - he is 21 years old. The president of Benfica, Rui Costa, who was quite good when he played for the club back in the day, has stated that the club won't sell for anything less than the release clause which is reported to be worth £103m. The sum of money is obviously a lot of money and I'm sure it's enough to deter even Premier League clubs in the short term...at least for now.
Mohammed Kudus - Ghana
It appears Kudus has raised his sights a little higher this time around after he was denied a move to Everton on deadline day last summer. Despite the fact that the Ghana and Ajax attacker is still only 20 years old, he has been impressive in Ghana's Champions League group stage run as well as on the international stage for the Black Stars, scoring two goals during their group stage games. There have been rumors about him moving to Liverpool, Borussia Dortmund, and Tottenham Hotspur, and he may well be among the players on the move before the end of the January transfer window.
Azzedine Ounahi - Morocco
In an amazing twist of fate, only 18 months ago Azzedine Ounahi was playing third-tier football in France for Avranches. In the miracle run that took Morocco to the World Cup semi-finals, the Angers player started every game for Morocco and has been one of the most impressive players in the Moroccan midfield partnered with Amrabat. Due to the fact that Angers currently sit rock bottom of Ligue 1, they won't exactly be in a position to turn down any reasonable offers for the 22-year-old should they come in January, even though he is a player they will be desperate to keep in order to help stave off relegation if they managed to acquire him. Ounahi appears to be a great pickup for most mid-table sides in Europe's top five leagues, even if they have to wait until the summer.
Jurrien Timber - Netherlands
Despite the fact that the club had an outstanding tournament for the Netherlands at the age of 21 in the World Cup, Ajax will once again have to cling on to some of their promising young prospects, including defender Jurrien Timber, who had a great tournament for the Dutch. In terms of versatility, athletic ability, and comfort on the ball, Timber is every bit the prototypical Ajax defender, replacing Matthijs de Ligt as soon as the tournament got underway. With Timber looking far more suited to the wide center-back position in the Netherlands' back three, it wasn't difficult to see why Louis van Gaal made the decision.
Joao Felix - Portugal
Considering Felix's price tag of £113 million when he joined Atletico Madrid from Benfica three years ago, he has really struggled to live up to the hype of the hype he brought with him. At least at the club level. His performances for Portugal have shown his class and that he has the ability to still reach his potential as a superstar, but he may need to move away from the Spanish capital in order to find a new lease of life on the domestic scene.
Cody Gakpo - Netherlands
In the months leading up to the World Cup, the exciting Dutchman had been tipped for a move to the Premier League in January. However, after scoring a handful of goals in Qatar to demonstrate his qualities, the interest in his services is only expected to increase. Gakpo's efforts played an important role in the Netherlands getting through their group, and that's a lot to thank him for. There is no doubt that one of the key stories of next month's transfer window will be the tussle for his signature.
Sofyan Amrabat - Morocco
Sofyan Amrabat is the younger brother of the former Watford winger Nordin, but he's a completely different type of player. He's a combative holding midfielder who is also able to dictate play with the ball at his feet. Fiorentina has a battle on their hands to keep their midfield anchor after his work rate, tenacity, and technical ability have been on full display during the World Cup. When Amrabat starred at Hellas Verona, he was a Serie A superstar, but it has only been in the last few months that he has started to reach his previous heights again, becoming one of the key players for La Viola in this season's Serie A campaign. In spite of the rumor that Liverpool might be interested in the Florence club, the club has stated that it does not intend to sell in the near future.
Jude Bellingham - England
As a result of his achievements on and off the pitch, the England star has become the topic of conversation in recent weeks. It has already been demonstrated that the teenage sensation has the ability to compete at the highest level, which is whetting the appetite of the biggest clubs in the world who know they could have on their hands one of the most talented midfielders of the next decade if they sign him. In the World Cup, Bellingham has been a joy to watch and everyone has now realized what an incredible player he is and how special a player he truly is.
Enzo Fernandez - Argentina
It is a pity that clubs didn't pick up Enzo Fernandez before Benfica snatched him from River Plate in the summer, as he is an excellent player. It is very unlikely that he will be able to enjoy his performances for quite some time because of how he has played during his time in Qatar. Fernandez scored Argentina's second goal during the group stage of the tournament, securing a 2-0 win over Mexico and advancing them to the semi-finals. It has been said that he has been one of the standout performers on the team alongside Lionel Messi and Julian Alvarez. The quality and range of Fernandez's passing set him apart as a future star at the age of 21, even though he is only 21 years old. In their attempt to keep him for as long as they can, Benfica will do everything they can to retain him, but sometimes, with a player as good as this, that is an exercise in futility. There is a good chance that he won't move in January, but anything is possible in the summer.
Josko Gvardiol - Croatia
The young defender Josko Gvardiol has been making headlines since he was 20 years old when he was already regarded as one of the most impressive in Europe, and the name has been on the lips of various transfer committees at some of the best clubs for a while now. In spite of his stellar performances for Croatia in Qatar, the transfer process may now be accelerated, as it is clear he is one of the few players who can easily walk into the starting line-up of any club competing in the Champions League. There are a number of reasons why RB Leipzig's business model would allow them to feel comfortable selling the player if an appropriate offer were to be presented to them. A number of top teams, including Manchester United, Chelsea, and even Bayern Munich, are reportedly interested in the player, so this could be a serious competition for the player's signature. In the end, it will be well worth it, as it will be able to secure the left-sided center-back position for the next decade.
By Rashmi Goel
You Might Be Interested In