Home

CRISTIANO RONALDO'S DREAM TO WIN THE WORLD CUP ENDS IN TEARS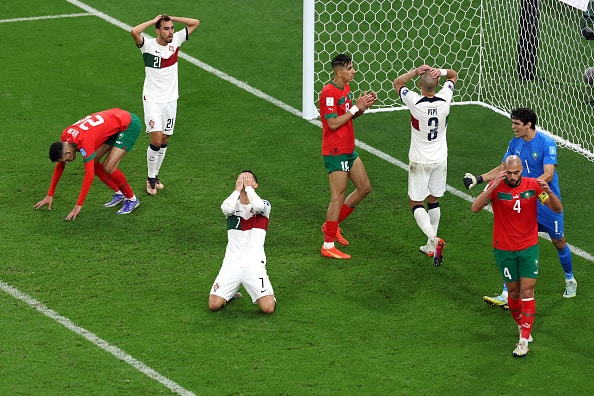 CRISTIANO RONALDO'S DREAM TO WIN THE WORLD CUP ENDS IN TEARS
CRISTIANO RONALDO'S DREAM TO WIN THE WORLD CUP ENDS IN TEARS
There May Never Be Another Opportunity For The 37-Year-Old Portuguese Forward To Lift Football's Most Prestigious Award.
By Rashmi Goel
This was yet another humiliating defeat for Ronaldo, who has appeared in five editions of the World Cup, scoring in every campaign of his career, and he has been humiliated in the biggest competition of all time. In the most likely scenario, this was the striker's last appearance in the World Cup, and he may not be able to win the most coveted trophy in the world of football in his lifetime. The Portugal team led by Cristiano Ronaldo suffered a shock defeat at the hands of Morocco.
A tearful Cristiano Ronaldo walked off the pitch at the end of the World Cup on Saturday, his dreams of winning the trophy in tatters. Morocco shocked Portugal 1-0 in the quarterfinals, their joy contrasting sharply with Ronaldo's misery. This was particularly bitter for the Portuguese forward, 37 since he played as a substitute and may never have another shot at the game's most prestigious award. With another result, Ronaldo may have been able to equal the all-time men's international appearance record, but his final minutes were desperate.