Home

TOP TEN PLAYERS WHO REACHED THE QUARTER-FINALS OF THE FIFA WORLD CUP 2022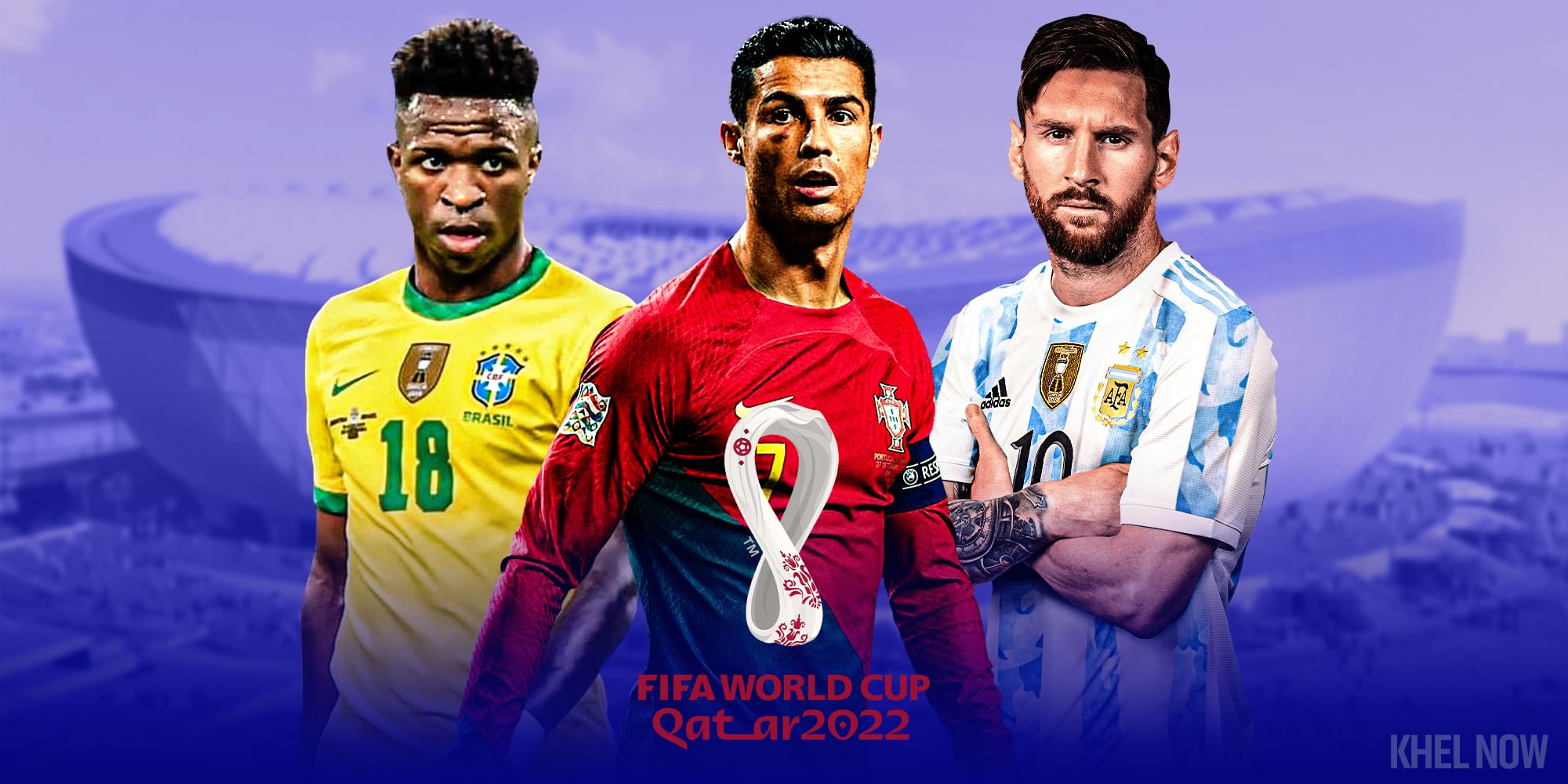 TOP TEN PLAYERS WHO REACHED THE QUARTER-FINALS OF THE FIFA WORLD CUP 2022
TOP TEN PLAYERS WHO REACHED THE QUARTER-FINALS OF THE FIFA WORLD CUP 2022
By Rashmi Goel
As we have now got a better understanding of who our eight semi-finalists will be for the 2022 Fifa World Cup, it is understandable that there are players from these nations who stand out above the rest. This is a look at ten of the most exciting players featured in the last-eight ties ahead of the four thrilling quarter-finals to come.
Kylian Mbappe (France)
A French professional footballer, Kylian Mbappé Lottin plays as a forward for Ligue 1 club Paris Saint-Germain and the France national team. One of the best players in the world, Mbappé is known for his exceptional dribbling abilities, speed, and finishing skills. Mbappe has been in superb form for Les Bleus at this World Cup, demonstrating what an outstanding player he is. As the tournament's leading scorer, he has also provided two assists to teammates. There is no doubt that Mbappe is the key to France's hopes of winning successive World Cups.
Bruno Fernandes (Portugal)
Currently, Bruno Miguel Borges Fernandes is a Portuguese professional footballer, who plays in the midfield for Manchester United and the Portuguese national football team, as well as for the Premier League club. The most notable quality of Fernandes is his ability to score goals, playmakers, lead, take penalties, and work hard. Fernandes has been the leading man for Portugal throughout this season despite what Cristiano Ronaldo may want you to believe. Having played only three games so far, he has already contributed to five goals in this tournament, winning two Player of the Match awards in that time period.
Lionel Messi (Argentina)
The Argentine professional footballer Lionel Andrés Messi, also known as Leo Messi or Messi for short, is a forward who plays for Ligue 1 club Paris Saint-Germain and captains the Argentina national team. The star player of Argentina has once again been the reason why they have been able to reach the knockout stage for the second consecutive tournament. The three goals and one assist he has contributed to his team have been crucial to their success and he continues to prove even at the age of 35 that he has what it takes to shine at this level and keep his World Cup dreams alive.
Bukayo Saka (England)
As one of the most talented footballers in the world, Bukayo Ayoyinka Saka plays for the Premier League club Arsenal as a winger, left-back, or center midfielder, as well as the England national team as a midfielder. A player like Saka is known for his attacking skills and incisiveness, and he is often hailed as one of the best young football players in the world due to his impressive attacking abilities. As a result of Saka's outstanding performances in Qatar, Gareth Southgate's side has scored three goals in three appearances so far this month and he has been one of England's brightest sparks so far. In spite of his impressive dribbling, which has caused problems for any defender he has faced at times, the link-up play he has had with his teammates has been a joy to watch at times.
Cody Gakpo (Netherlands)
The Dutch professional footballer Cody Mathès Gakpo is an offensive winger who plays for the Eredivisie club PSV as well as the Netherlands national team. Gakpo, a graduate of the PSV academy, made his first-team debut for the club in February of this year. When it comes to prices going up, there is no doubt that that is certainly the case with Netherlands attacker Gakpo. A trio of goals that he scored at the tournament showcased just why most of Europe's most prestigious clubs are pursuing him to sign him. The star of Louis van Gaal's side so far has been he who has stood out from the rest of the team.
Jude Bellingham (England)
The English footballer Jude Victor William Bellingham is a professional footballer whose main position is to play as a midfielder for the Bundesliga club Borussia Dortmund and the England national football team. During the World Cup, the 19-year-old superstar has been one of the most impressive midfielders for the Three Lions, and he has already contributed a goal and an assist for his team so far. As a result of his outstanding attributes, both offensively and defensively, he has dazzled the footballing world - resulting in the price tag on his head skyrocketing.
Alex Sandro (Brazil)
The former Brazilian national football team left-back, Alex Sandro Lobo da Silva plays for Serie A club Juventus as a left-back and has represented his country on several occasions. It was with Atletico Paranaense that Alex Sandro began his club career, and he later played on loan for Santos in the later part of his career. This Brazilian defender is one of the best players in the Tite's side at the World Cup. He is equally effective both defensively and offensively, which makes him an asset for Tite's side. In Brazil's hard-fought victory over Switzerland, he was named Player of the Match for his outstanding performance.
Diogo Dalot (Portugal)
A Portuguese member of the Portuguese national football team and Premier League club Manchester United, José Diogo Dalot Teixeira plays as a right-back for the Premier League club and as a member of the Portuguese national team. This talented player came up through the Porto youth system, and at the beginning of 2017, he made his professional debut for the club's B team. It has been a positive experience for Dalot in his two World Cup appearances with Portugal in Qatar, and this reflects his improvement at the club level as Manchester United has been performing well of late. There is no doubt that he is one of the best players in the league when it comes to supporting his teammates in attack as well as when it comes to his defensive duties.
Richarlison (Brazil)
It is believed that Richarlison de Andrade, commonly known as Richarlison, was a Brazilian professional footballer who played for the Premier League club Tottenham Hotspur and the Brazil national team. It is worth noting that the Brazil striker has three goals in this tournament to his name. He has been an integral part of Tite's team throughout the tournament. As a participant in some outstanding goals, he has been involved in the bicycle kick against Serbia and the wonderfully-worked goal against South Korea in the last sixteen.
Antoine Griezmann (France)
It is well known that Antoine Griezmann plays as a frontman for the Spanish La Liga club Atlético Madrid as well as the France national team, as he is a professional footballer. Antoine Griezmann is regarded as one of the best-attacking midfielders in the world, as well as a great passer and an excellent defensive player. In his career, he has played as an attacking midfielder, winger, and striker. There has been little recognition for this petite superstar so far in Qatar, but he is France's unsung hero. In the middle of the pitch, the 31-year-old has regained his confidence after being inserted by Didier Deschamps as the driving force for Les Bleus' attacking brilliance. As a result of his quality on the ball, he has been able to dictate games for his team.
You Might Be Interested In