Home

LIONEL MESSI AND JULIAN ALVAREZ LED ARGENTINA'S 3-0 VICTORY OVER CROATIA IN THE WORLD CUP SEMI-FINAL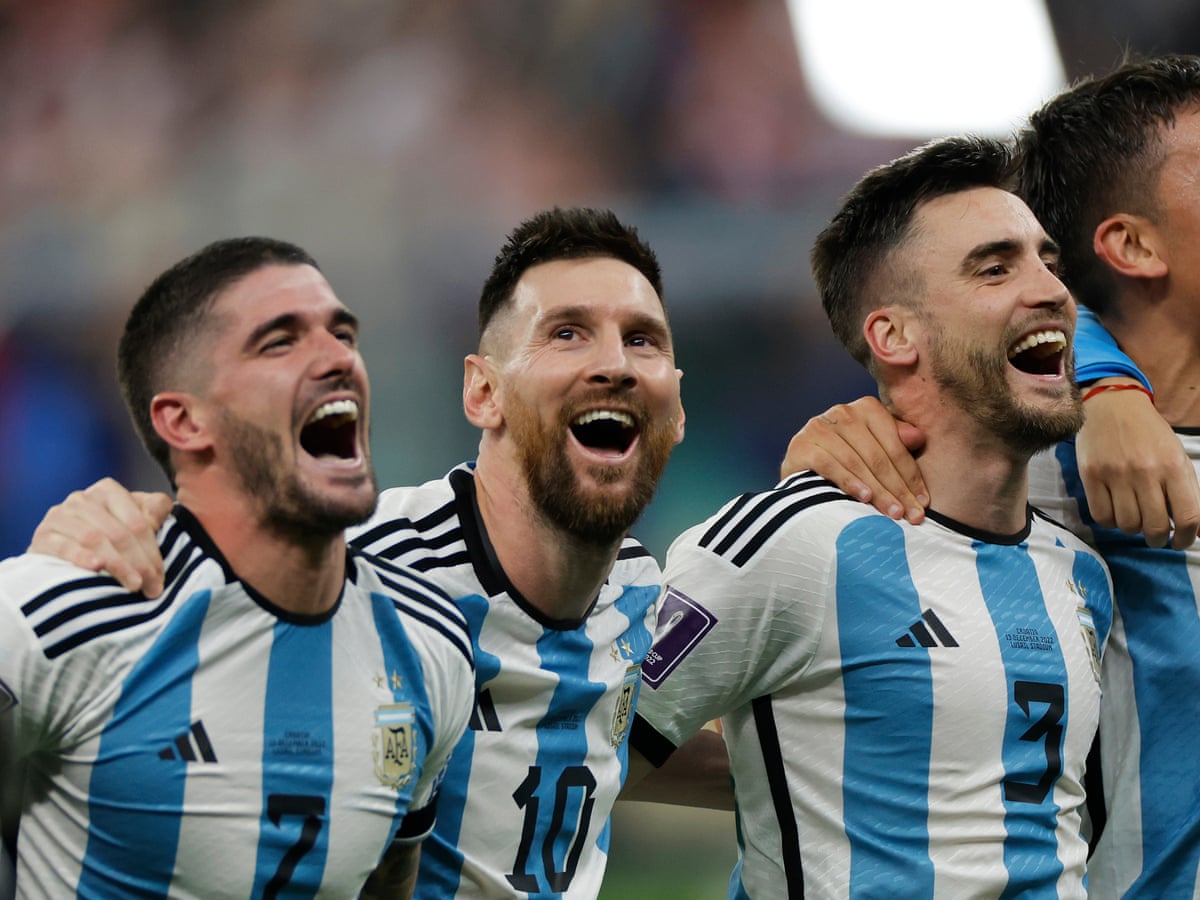 LIONEL MESSI AND JULIAN ALVAREZ LED ARGENTINA'S 3-0 VICTORY OVER CROATIA IN THE WORLD CUP SEMI-FINAL
LIONEL MESSI AND JULIAN ALVAREZ LED ARGENTINA'S 3-0 VICTORY OVER CROATIA IN THE WORLD CUP SEMI-FINAL
By Rashmi Goel
Argentina's commanding win, featuring two goals from Julian Alvarez, contributed to Lionel Messi making history. A thrilling victory against 2018's runners-up Croatia helped Argentina reach their sixth World Cup final. In the final at the Lusail Stadium on Sunday, Lionel Scaloni's team will face the winner of France vs Morocco following a penalty by Lionel Messi and two goals by Julian Alvarez. It is noteworthy that Argentina began their competition with a shock 2-1 defeat to Saudi Arabia, but has responded with five consecutive victories to book a place in the final.
A tense first 30 minutes of the game brought the game to life when Alvarez got in behind the Croatian defense and was brought down by goalkeeper Dominik Livakovic with resulted in a penalty shoot. Messi converted the resulting penalty to make it 1-0. Alvarez doubled Argentina's lead shortly after that when he ran from the halfway line, avoiding tackles and scoring from close range following some fortunate ricochets. As Messi and Alvarez again teamed up, Croatia was unable to pose a threat and the game was beyond their reach.
Messi produced some trademark magic to get by Josko Gvardiol and set up Alvarez for a tap-in goal, his fourth of the tournament. With this opportunity, they will be able to correct the mistake they made in the 2014 tournament when they fell at the final hurdle. Messi displays another moment of brilliance in another game. Prior to Livakovic's foul on Alvarez, Paris Saint-Germain's magician had been fairly silent for the majority of the opening 30 minutes. Through his supremely confident penalty kick, he became Argentina's top-ever World Cup scorer, surpassing Gabriel Batistuta. It was his fifth goal in this tournament and the eleventh of his career at World Cups.
Messi has displayed many tremendous moments over the years - and this was not particularly memorable - but it was still a very impressive display of composure under pressure. In case you were not captivated by the penalty kick, you should have been by his play to set up Alvarez's second goal. As a result of his innate ability, close control, and speed change, Gvardiol was blindsided and Alvarez was left to finish the job on his own. Thanks to hard work, organization, and determination, Croatia made it to the semi-finals. It had been one of their finest defensive performances this season as they controlled the ball against Morocco and Belgium and held Brazil's star-studded attack to just one goal in 120 minutes of gameplay. A young center-back with impressive athleticism and anticipation, Gvardiol is one of their breakout stars. Livakovic is their standout goalkeeper - a player who has made four saves in two penalty shootouts to get them through the tournament.
It all came tumbling down in nine minutes of madness against Argentina. After one ball was hit over the top, Alvarez was allowed to run and run for the second penalty incident. It cost Zlatko Dalic's team the game in an uncharacteristic manner. In 90 minutes here, they conceded as many goals as they did throughout the entire tournament. It was Alvarez's pace and directness that caused the Croatian defense, particularly Dejan Lovren, to suffer a nightmare. There are certain players who experience nerves when playing alongside Messi in a World Cup semi-final. This was not the case for Alvarez, who scored two goals and won the penalty by virtue of his tenacity, skill, and speed.
You Might Be Interested In