Home

JORDAN HENDERSON: "WE GAVE OUR ALL AGAINST FRANCE."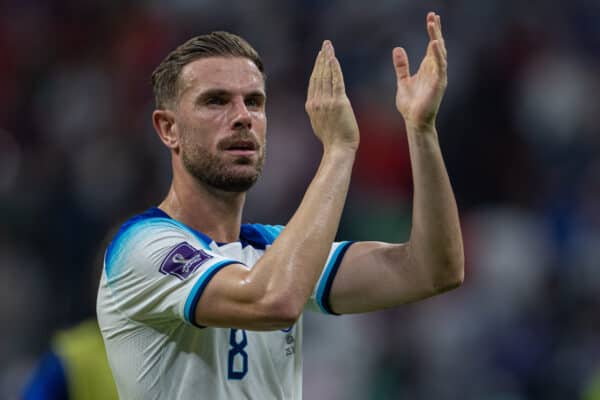 JORDAN HENDERSON: "WE GAVE OUR ALL AGAINST FRANCE."
JORDAN HENDERSON: "WE GAVE OUR ALL AGAINST FRANCE."
By Rashmi Goel
Regardless of the situation, Jordan Henderson is an outstanding captain. The veteran midfielder always steps up when necessary, even when he is not officially the captain. It was like this after England lost a heartbreaker against France in the Round of 16 of the FIFA World Cup. Having missed a late penalty kick that would have tied the match at 2-2, England's official captain Harry Kane was inconsolable, so it was Henderson who spoke to the media in his place.
Even though we went down 1-0 in the first half, our mentality and character gave us hope and we found an equalizer in the second half. Despite giving it everything, England was not able to make it on the night." After England conceded an early goal to Aurélien Tchouaméni, Henderson and The Three Lions mounted a ferocious response. In the 54th minute, Harry Kane converted a penalty earned by Bukayo Saka, but England fell behind again to a header by Olivier Giroud in the 78th minute.
A penalty was awarded to England in the 81st minute after Mason Mount was blatantly barged over in the box, but Kane shot high over the bar in his second trip to the spot. Rather than cast blame, Henderson defended the official captain of the team. The number of penalties Harry has scored for us is well known," Henderson stated. In the long run, he will be stronger for it, I am sure. This was his first goal and how much he contributed to us even reaching here. It would not be possible for this team to succeed without him."
There were plenty of opportunities for England to score outside of the penalties, and they likely should have been able to score one or two more goals. Hugo Lloris' heroic goalkeeping made the difference in the match. Henderson and the rest of the squad gave a good performance, despite the result. During our stay here, we felt very good. We performed exceedingly well, our focus was strong, and our appetite was high every day. Despite our best efforts, the evening did not turn out as planned. The French team is a strong one, but I felt it was possible for us to win tonight." Henderson and unused substitute Trent Alexander-Arnold are out with England, Virgil van Dijk is out with the Dutch, and Alisson and Fabinho are out with Brazil. In order to qualify for the final, France must defeat Morocco on Wednesday.
You Might Be Interested In